Sam
Actor
Jacob Goudzwaard
Gender
Male
Hair
Light Brown
Age
13
Occupation
Assumed Elementary School Student (Pre-Apocalypse)

Family
(Unnamed) - Mother
(Unnamed) - Father
First Appearance
"Sisters of Mercy"
Last Appearance
"The Murphy" (Flashback Only)
Status
Unknown
Ethnicity
Caucasian-American

Sam is a character featured in "Z Nation", first encountered in Season 1 episode 11 "Sisters of Mercy".  
Pre-Apocalypse
Edit
He is the son of a sister-wife in Utah.
Post-Apocalypse
Edit
He grew up with a mother inside the Sisters Of Mercy Camp. When Sam turns 13, he is sent of Salt Lake City to "find his dad." He is unaware at that time that this is the Sisters way of killing males as they reach puberty.
He encounters the Westward-bound survivor group and is convinced by Roberta Warren to bring them back to the compound for food and water.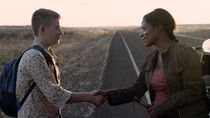 At the end of the episode, he is shown heading back out towards Salt Lake City.
Sam is mentioned by Addison Carver in "The Murphy" and shown briefly on screen. Addison explains to Mack Thompson that Sam figured out the Sisters sent him away to kill him, so he returned. He burned the Sisters' camp to the ground and released the Zombie Bear, leading to the death of everyone in the camp except for Addy and Serena.
After that, his status is unknown.